It's a safe bet that the majority of entrepreneurs who are part of Vistage have big ambitions for their businesses.
It's also likely that many are either already in a phase of rapid growth or are about to embark on that process. This is a very distinctive part of the company life cycle, one that makes extreme demands of business leaders due to the speed and magnitude of change in this phase, is widely accepted.

That's why in this whitepaper we are taking an in-depth look at what has been christened 'scale-up'. While the term 'start-up' entered the business lexicon many years ago and is widely understood, scale-up is less familiar. For practical insights we turned to the Vistage Chairs, speakers and partners who have worked with hundreds of companies at various stages of the scale-up phase.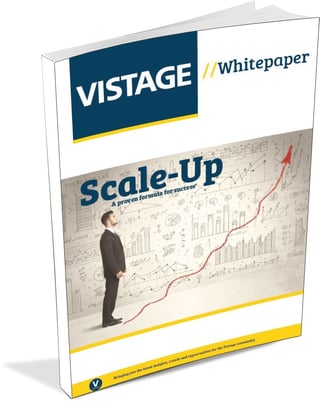 To bring the story to life, we interviewed Vistage members who shared their first-hand experience of the process. The resulting case studies offer a revealing insight into what it's really like to embark on the scale-up journey.

Our exploration of the subject starts by explaining what scale-up is and why it matters, and goes on to outline the challenges facing businesses embarking on the process. Next we take a closer look at five key areas of company operations that are critical in navigating the hazardous waters of scale-up. Finally we bring it all together into a 'Scale-up road-map'.
Download the report now and gain strategic insights from experts from our Vistage community and beyond.

The 5 Key Areas of Scale-Up
Why Scale-Up Matters
The Challenges of Scaling
Leadership
Systems and Infrastructure
Talent and Sales Strategy
Finance
A Roadmap for Achieving Scale-Up
Scale-up is relevant to every business leader taking their business into the high growth phase.