A 'perfect storm' combination of factors is changing every aspect of our lives, mostly to the long-term detriment of our health and ability to perform.
Over the last few years, the forces that have shaped the business world have included recession, austerity, technology, uncertainty, demographic changes, disruptive business models and of course the never-ending need to innovate. Amid all of this, a new imperative is now rising to the top of a CEO's challenges – Wellbeing.

For business, Wellbeing is the new challenge. Chief Executives not only have a moral obligation to look after the wellbeing of their staff, but increasingly they will gain a clear business advantage by putting Wellbeing at the core of their strategy. The good news is that, like other challenges, as the issues develop, so do the solutions.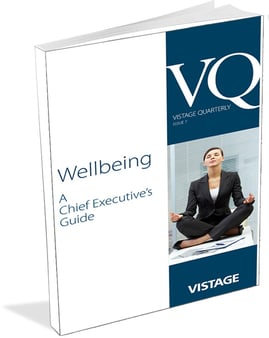 Vistage is already implementing many of the ideas and techniques outlined in this paper. Consider what you will do to improve the Wellbeing of your organisation, and how you will incorporate Wellbeing into your business strategy. By doing so, you have the potential not just to improve performance and engagement within your workforce, you can create a compelling competitive advantage for your organisation.
Download the report now and gain strategic insights from experts from our Vistage community and beyond.

Diet and Nutrition
Lifestyle and Fitness: Exercise for Wellbeing
Stress and Mindfulness
Technology and tools for Wellbeing
Wellbeing across the organisation
Wellbeing – Assessment and Intervention