The Internet of Things can radically change value propositions. It can enable fast new entrants and totally re-shape a sector. Do you know how it might affect your organisation, your customers, your suppliers, your industry?
For most of us, our work and home life now revolves around a 24x7 connected world, enabled by mobile phone technology and WiFi. We've also moved beyond email and websites to a world of thousands of discrete apps that deliver small chunks of information on demand, and many also interrupt us and tell us what is going on, what we should be doing and what others are doing – whether we like it or not.

Over the past few years, a new range of smart products have also entered our lives. From fitness trackers to intelligent toothbrushes, smart TVs and connected cars, we've now entered a new world, where it's not just people who are connected. All around us the devices, the machines, the equipment we interact with (and many that we don't) are now also connected; to each other, to bigger systems, to the world at large. Do we really understand how all of this connects, how our data is actually being used across all of the systems and platforms? And what about the information that the devices and products collect?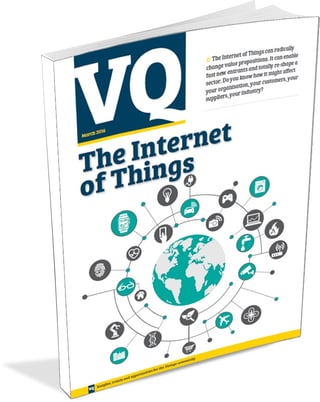 For individuals, there are many hidden implications of this new connected world; for businesses, the implications are even bigger. Traditional products, services and even entire sectors could be at risk by the changes coming from the Internet of Things. But equally, brand new products, new services, new efficiencies, new business models, new markets can also be enabled.
Download the report now and gain strategic insights from experts from our Vistage community and beyond.

Smart Products
The IoT Ecosystem
Security and Privacy
BIG Data
Implications for Business
Rethinking Your Strategy
The IoT, we just can't afford to ignore it.