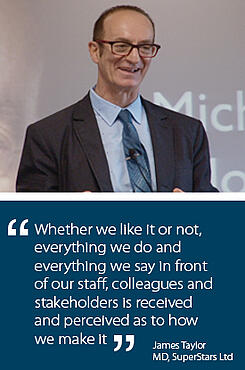 Learn how you can reach your full potential by being 'you on your best day' every day!

Leaders sometimes forget that they are being judged all the time.
From the moment they step foot into the workplace, all eyes are on them.
From what kind of mood they're in to what they're wearing. It's something that cannot be taken lightly.
Michael Allosso shows how you can reach a more vital and dynamic awareness of the excellence needed in you and your workplace by looking at:
Appropriateness and method for demonstrating passion and energy
The power of the spoken word and when not to speak.
Tone of voice and body movement
Generating enthusiasm, clarity and persuasiveness
Team leading and building
Watch this great video now to start making sure that each meeting, planned or spontaneous is much more successful.